Almost all marketers have heard about HubSpot and know it to be an Inbound Marketing platform, but what they may not know is that HubSpot is the ideal marketing platform for small businesses and small teams. HubSpot is not only designed for large organisations and enterprises, it is also a solution that can be scaled to suit any business and any size.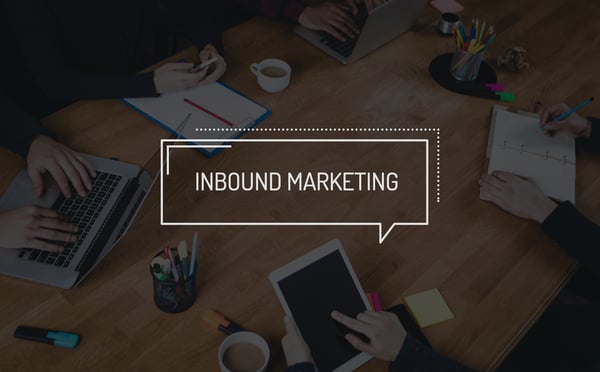 Before we dive in, let's take a look at the tools that the software offers and how HubSpot can help your small team and small business grow.
HubSpot at its core is a Customer Relationship Management system, and this is completely free, however you can add features from these 3 categories to your CRM at a cost:
Marketing: The HubSpot marketing platform is made up of advanced tools for email marketing, landing pages, content creation and much more.

Sales: The HubSpot sales plan gives your team the ability to keep track of deals, score leads, follow up on leads, and much more.

Service: The HubSpot Service tools are designed specifically for your customer service team, making sure the customer experience is as smooth and streamlined as possible.
Most small businesses that are made up of small teams will benefit from the basic CRM, and the marketing and sales plan, depending on what they want to achieve through the platform.
Below, we take a look at why HubSpot is a useful platform for small teams and small businesses.
Can HubSpot CRM help to grow my small business?
If you do not have a clear understanding of what a CRM is, you may not fully comprehend why HubSpot is such a useful tool - and if you would like to learn more about the importance of a CRM for business, click here.
Below, we list some of the most common issues that businesses, specifically businesses with smaller teams, may face:
Not having enough clients
Losing track of leads within the sales funnel
Unable to convert leads into clients
Too much time spent managing leads
Content creation and blogging is time consuming and seemingly ineffective
Lack of progress due to having contact information scattered between your email, excel spreadsheets, and other communication platforms.
All of the above pain points can be easily addressed using HubSpot because the HubSpot CRM allows you to create profiles for every one of your leads. It allows you to set up sales funnels and move your leads' individual profile through each step to ensure your team keeps track of where each lead is in the sales process.
If your team wants to implement inbound marketing tactics such as creating content that is designed to attract views and collect leads, HubSpot has tools available that are designed to help your team manage this marketing effort quickly and efficiently - saving your small team time and saving your business money.
Is HubSpot Easy to Use?
The last thing a small team wants is to waste time training and learning how to navigate a new platform, and this is a concern many businesses have when considering investing in a marketing platform. However, HubSpot is a marketing platform designed for ease of use, making it simple for your team to adjust to the software.
Signing up to HubSpot is easy, but you may feel intimidated when it comes to getting started. No matter what plan you choose for your HubSpot account, you will have a full menu at the top of your screen, you just won't be able to access all parts - so with this in mind, there will be a learning curve.
While most of the HubSpot menu is intuitive, you may need an hour or so to figure out how to use HubSpot for your organisation. Most marketing platforms require days of training, and even specialist consultants to take your team through training, whereas HubSpot is designed for ease of use which makes it an ideal tool for small teams and small businesses. The software is easy to figure out on your own, but HubSpot doesn't stop there, it offers a variety of free training options that will get your team on top of their game when it comes to utilising the software to the best of its ability.
HubSpot's training materials are very well produced and highly respected in the inbound marketing and CRM industry. You can also watch HubSpot Academy videos to learn more about using inbound marketing for your business, or you can refer to the HubSpot learning center that is made up of short videos that teach you the ins and outs of the software, and alternatively, you can hire a HubSpot expert to take your team through the process of using the software.
There is a slight learning curve, but unlike all other marketing platforms, it is not steep and most teams can get up and running on HubSpot within a few hours - it's as simple as that. No significant time or significant money wasted!
The HubSpot CRM Features and Benefits for Small Teams
HubSpot is an all in one platform
One of the constant challenges small marketing teams face is having to focus on a multitude of tasks, systems and tools all at the same time. When this happens, some members of the team may not be aware of the tasks completed by other team members, and they may step on each other's toes.
But HubSpot simplifies all of this, as it is an all-in-one out-of-the-box solution. Your team members will no longer waste their much needed time on complex integrations and menial tasks. HubSpot will take care of all aspects associated with the entire inbound marketing process, from generating leads to nurturing leads and converting leads. And all team members are able to view the information without having to go back and forth between each other.
HubSpot helps your team stay focused on the task at hand
As stated previously, HubSpot is an all in one solution and provides all the relevant tools required for a digital or inbound marketing campaign. The platform gives your team access to everything from a CRM and CMS to email marketing, social media, reporting and SEO functionality - all of which can be automated, making the process streamlined and free of human error.
Everything that your small team requires for inbound marketing is available in one place, and is accessible at all times, making sure your team is up to date on all their tasks and that they are focused on what really matters.
HubSpot Reporting and Analytics
Data driven marketing that is able to demonstrate cause and effect is vital in the digital marketing realm. However, when it comes to a small team, interpreting and managing this data manually takes a lot of time and skill while understanding and analysing the data that has been collected takes even more time and effort.
But with HubSpot, gathering and analysing results and metrics from an inbound marketing campaign is simple because the platform offers basic analytics throughout all of its tools making the process of analysing data that much easier for marketers. With this information at hand, your team is able to clearly see what is working and what needs to be changed in order to gain greater success with their campaigns.
HubSpot and Search Engine Optimisation
Search Engine Optimisation (SEO), is a complex process that involves optimising content for the search engines. There are an abundance of SEO tactics that marketers use to get websites ranking in the search engine results pages, but it is almost impossible for a small marketing team to implement all of this effectively and timeously. Learn more about SEO, here.
But HubSpot SEO strips back the complexities of this tactic and gives your team access to the basic tools to help get your site ranking online, from guiding your team to post SEO friendly content to assisting your team with technical SEO applications.
HubSpot and Third Party Integrations
The HubSpot platform is always growing and expanding, and with the help of HubSpot's API, third parties have been able to create integrations to expand the functionality of the software.
You are able to view HubSpot's full list of platform integrations, and you will find that new integrations are continuously being added to this list - and this is another benefit to investing in the platform, especially if your company uses third party systems that you cannot do without and will need to integrate into an inbound system.
HubSpot for Lead Generation and Lead Reporting
Small teams usually struggle to organise important data, and a lot of information can get lost among the clutter of data available. HubSpot gives your team access to all the critical data they require about your contacts and leads.
They are able to access clear and thorough information about a contact's specific interests and how long they have been checking out your website - among a variety of other vital information that can assist in marketing and ultimately making a sale. HubSpot is one of the most powerful tools for lead generation, and you can learn more about this, here.
HubSpot Marketing Funnel
This is something that will make your small marketing team and sales team smile - HubSpot offers a ready to use marketing funnel! You are able to create an account, place your contacts in the most appropriate stage of the sales funnel suited to them, score them as leads, and personalise and distribute relevant content to them.
HubSpot also gives your team members access to all visitor data and lets them analyse the impact of these personalised lead generation campaigns, sales and overall performance of the marketing and sales teams.
HubSpot Pull Marketing
The traditional push marketing approach refers to pushing messages onto people who may not have any interest in purchasing your product or service - this is something no one wants to try in the age of digital marketing.
Pull marketing on the other hand is about reaching the right person, at the right time, with the right messaging. This is the kind of marketing that establishes a loyal following for your business, and HubSpot makes this pull approach - aka inbound marketing - possible and effortless! Everything a small team wants and needs!
In Conclusion
HubSpot is designed to make your team's life easier, saving them time and saving your business unnecessary costs. From data storage and content marketing to lead generation - HubSpot is ideal for small businesses that want to optimise their smaller teams as best as possible. HubSpot is a valuable asset for any business and we are here to help you optimise it to reach its full potential.
Nexa is proud to be a Diamond-tiered HubSpot Partner and this places us in the top 2% of HubSpot Partners globally.
If you are interested in implementing HubSpot for business, our HubSpot development team has experience integrating HubSpot's CRM with a number of platforms that can increase the efficiency and data access for your business.
In fact HubSpot integrates with over 500 other software titles to help your team streamline activities and in doing so increase efficiency and productivity. Contact us today for more information and to learn more about our offerings.