Lead generation strategies are vital for the success of any business. We live in a global village and the digital age has changed the way we do business with modern day lead generation heavily influenced by digital marketing and campaigns.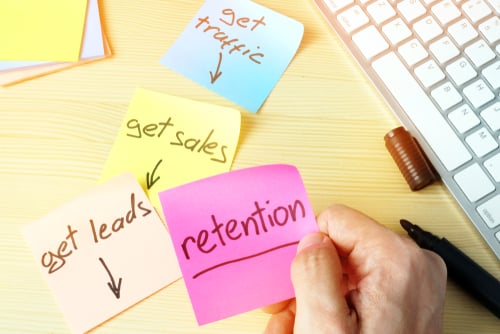 For B2B companies, Lead generation and revenue generating campaigns are the most important parts of any digital marketing strategy. The goal is to create a campaign that drives traffic to a website in order to boost the bottom line, and this is done through a variety of tactics that have been designed to attract and engage the target audience.
The Goal of Lead Generation using Digital Marketing
A potential client, who is genuinely interested in your business offering, is referred to as a lead. This is the first point in the customer's buying journey, and the first point of contact you will have with them usually comes from your marketing tactics. Digital marketing lead generation is implemented using a set of strategies that follow the buyer's journey, and these strategies are designed to:
Generate qualified traffic to the company's website
Convert those visitors into leads
Convert those leads into paying customers
There are a variety of tools that are used to generate leads through digital marketing.
How can you use digital marketing for lead generation?
Search Engine Optimisation for Lead Generation:
Search Engine Optimisation (SEO), is one of the most powerful ways to reach potential customers. SEO involves improving your website's visibility or ranking on a Search Engine Results Page (SERP) when a user is searching for your specific services or products. The goal for a business is typically to rise in the search ranks, and be above your competitors in the search results. SEO is vital considering that 75% of users do not click past the first page of Google results. Therefore, your website needs to be on the first page of the search results to gain quality traffic.
SEO is a long process and there are a variety of steps to take to boost your online presence. Google and other search engines analyse hundreds of elements when delivering search results. Some of these factors make a greater impact than others, and there are certain areas that digital marketing will focus on to help you generate more leads and rise up the Google ranks. These include, but are not limited to:
User Experience: Your website needs to offer the user a positive and helpful online experience. User experience will impact how much time a potential client will spend on your website. And this can be improved by making sure certain elements of your website are running smoothly, such as loading time and page speed.
Navigation: Your website navigation is a big part of the user experience and overall website design. Navigation plays a major role in keeping a user on your website. If people are struggling to find your information, then they will move on to your competitors website. Make sure to keep your navigation easy so as to create a positive experience, helping the viewer on their sales journey.
Content: By creating content that is informative and answers the users questions, you will gain trust. Your content needs to be of the highest quality to keep the user on your page and to keep them engaged. This kind of high quality content will also help in establishing your business as an industry authority, driving the viewer to invest in your services or products. Consistent and quality content plays a big role in search engine optimisation as it tells Google you are invested in helping the viewer and are an industry expert.
SEO plays a massive role in the sales journey and brings users to your website. From here, you want to engage with them, turn them into leads, and continue the relationship. This is done by amplifying the content you are producing and sharing it across platforms.
Platforms such as Facebook, Instagram, and LinkedIn can help direct even more traffic to your website, and convert viewers into leads.
Learn more about the importance of SEO, here.
Social Media for Lead Generation
Once you have designed an optimised website and implemented an SEO strategy, social media is the next step in digital marketing lead generation.
From Facebook and Instagram to LinkedIn and Pinterest, social media offers a targeted way for you to reach your audience and direct them to your website or landing page. This can be done by sharing your content to your social media platforms. Once a viewer clicks on your content, they will be directed to your optimised landing page.
You can also promote your content on social media via paid advertising. For example, Facebook and Instagram offer lead generation campaigns that are specifically designed to capture a potential clients contact information. Capturing this information is vital for lead generation as it helps you nurture your leads and convert them into clients.
Lead nurturing is one of the most important parts of digital prospecting. and social media platforms offer a great way to share further content such as educational messaging or success stories in order to sustain a relationship with viewers and remind them of your service and product offerings. This is what turns a lead into a paying customer.
Nurturing your Leads using Digital Marketing
Your entire digital marketing campaign should be designed for nurturing leads. In order to build a relationship with your leads, you need to continue the conversation with them. This is why it is vital to collect email addresses and contact information via your landing pages.
Add a form to your landing pages where visitors can submit their email addresses and contact details, and make sure this form is responsive on all digital devices. You can incentivise your leads to submit their contact information by creating a "lead magnet." A lead magnet is an incentive that you can use to encourage potential clients to provide you with their details. For example, you can offer an informative e-book or e-guide that will help the viewer and the only way for them to access this content will be to provide their contact information.
Once you begin building your database, you can launch an email drip campaign or a social media remarketing campaign that directly targets your newly acquired database.
Email marketing is a great way to begin nurturing your leads and convert them into paying customers.
Email Marketing Campaigns
This is where the real lead nurturing begins. Schedule in a welcome email once your lead has provided you with their contact details.
Once this has been done, implement an email strategy that is designed to convert potential clients into playing clients. Keep these emails short and to the point, grab the attention of your audience with a catchy and personalised subject line, and set automated campaigns to stay in touch. Advanced automation platforms such as HubSpot provide a tracking process that can analyse your email campaign and view its success.
Learn more about email marketing campaigns for lead generation, here.
In Conclusion
For a business to grow, it needs new customers, and needs to market itself to gain those customers. This is why lead generation in digital marketing is vital.
Once a lead has been acquired, there is a lot that can be done with their information. You can target campaigns to email addresses via social platforms, you can deliver email campaigns, and there is also software available to track and analyse your efforts, optimising the process even further.
At Nexa, we know that lead generation is the lifeblood of any business. We have been providing Inbound Marketing and Sales Lead Generation to a wide variety of businesses for well over a decade, and we have been using HubSpot as the primary platform for these services. This is because HubSpot offers a variety of sales lead generation tools that are successful in turning leads into sales.
We are proud to be the region's leading and only HubSpot Diamond Agency Partner and have been recognised as thought leaders and innovators within this field. If you are looking to generate leads, we can help. Contact Nexa today and drive highly qualified sales leads for your business.