According to a recent study, there are over 1.8 billion websites, around 200 million active websites, and every day there are thousands of new sites being added to the existing online competition. With these statistics in mind, it is important that you make sure your business is consistently kept up to date with the latest web development and user experience trends because if you do not keep your site up to date, you will slowly drop in the search engine rankings, while your competition rises.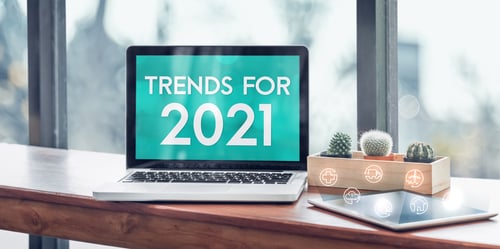 Web development and web design has evolved right alongside advancements in technology, and 2021 is the year of interactive, futuristic, and engaging websites.
4 Website Design Trends for 2021
1. Vlogs
Video marketing has become one of the most popular digital marketing tactics, in fact, 54% of consumers have stated that they want to see more video content from businesses (HubSpot, 2018) while a 2019 report shows that 87% of marketing experts use video as a marketing tool and 73% of consumers state that they are influenced by a brand's video marketing social media presence when making a purchase decision online. And when it comes to lead generation, video marketing is a powerful marketing tool, according to Optinmonster, video marketers acquire 66% more qualified leads per year, and the same study concluded that video marketers achieve a 54% increase in brand awareness.
The above statistics prove why video blogs, also known as vlogs, are quickly becoming the future of blogging and content creation. Creating a vlog on your website, or adding video content to your website blogs in 2021 will ensure more engagement with your target market and will lead to greater trust in your brand.
The Benefits of Vlogs for your Website:
A personalised user experience: With vlogging, your audience gets to enjoy a more personalised experience from your brand, as it allows them to view your business operations, services, and your day to day brand message. This kind of visual and engaging content will make your brand appear more trustworthy, which in turn leads to more conversions.
It promotes your other content in a more dynamic way: It is always great to share static imagery and written blog content online, but by having a vlog page, you are able to promote new content and products in a more appealing way - by visually showing your target market your offerings in action, the team behind your offerings, and why your product or service is the best in the industry.
Vlogs drive a user to action: Because vlogging feels more personalised and less like a sales pitch, it becomes easier to persuade viewers to take a specific action, and if you produce video content that users find engaging, useful and valuable, they're likely to adhere to your CTAs and this inevitably drives conversions.
Your website vlogs can be shared across platforms, from Facebook to TikTok and YouTube, ensuring your marketing efforts reach even further - which in turns, drives traffic directly to your website.
2. Live Chat Box
Right now, digital marketing needs to be focused on customer service and user experience, and this is why the Live Chat boxes and conversational marketing as a whole, continues to grow in popularity. Live chat is well suited to providing customer support and through this technology you are able to solve a customer's problems faster and improve customer satisfaction.
The benefits of Live Chat Boxes on Websites:
Customer Support: With Live Chat, you can instantly support your potential and current customers, saving them from the hassle of dealing with long and tedious IVR (interactive voice response) menus before they can speak with a human. From a customer's perspective, this alone can turn them into a happy customer and from a business' perspective, live chat helps one step towards achieving your goal for world class support.
Instant Communication: Emails are still a trusted and preferred means of communication among consumers, but this kind of communication means that they have to wait hours, if not days before receiving a response. With Live Chat, you are able to speed up the checkout process by answering product or service questions instantly, and provide fast and efficient technical support to existing members - essentially, live chat will convert leads into customers, quickly and easily.
Cost Saving: Website live Chat helps you decrease your customer service costs by decreasing the demand for phone support. At the same time, you will be able to interact with a larger customer base because a skilled agent can easily handle up to 3 customer interactions simultaneously through this platform.
With consumers becoming ever more accustomed to instant communication and instant gratification, it is fast becoming necessary for businesses to implement live chat boxes across their websites, and this will be a significant web design trend for 2021.
3. Motion, Animation and Interactivity
Animation and video have always been a great way to engage online users and grab their attention, and they have become even more relevant, as online audiences attention spans continue to decrease due to a variety of online distractions. So, how does motion and animation keep the online audience engaged on your website? Our eyes are instantly drawn toward any moving element, and this biological fact can be used to control the way a visitor views a certain web page.
The need for engaging and moving elements on websites is increasing, from micro-animations that offer feedback as a user hovers over a particular element to interesting typography that scrolls across the screen in a header, to full screen animations and video headers.
Benefits of Animation and Motion on your website:
Capture the users attention: According to a study, you

have .05 seconds

, or 50 milliseconds, to make a positive first impression on a website visitor and this is hardly any time at all. Animation and moving elements make for an excellent UX design tactic as movement will draw a users eye, improve first impressions and decrease click-through rates.
Increase Engagement: An animation is a powerful tool for increasing user engagement with a brand website. Animating website elements such as a call to action buttons or the navigation menu work to encourage users to click, explore, and remain on a page.
Customised Content to Stand Out: Unique animations are a great tool for establishing a businesses tone and one of a kind personality. Creating custom animations that suit your brand message and goals will show visitors that your organisation offers something that your competitors do not.
To make this trend work for you in 2021, you need to think of what areas of your website you would like your audience to focus on.
Keep in mind that motion can also be distracting when used incorrectly, so be sure to work with an experienced website developer and website designer to ensure every element of your design is used strategically - essentially, make sure that the moving elements on your page tell your brand story correctly.
4. 3D Elements and Artwork
3D elements are becoming a popular trend for website design as these usually bright, eye catching designs act as a bit of "eye candy" to lure the users attention. You will also notice that these 3D elements are usually used against a clean and minimal background, ensuring that the viewer is not overwhelmed when they visit a page.
3D design elements are a great idea for e-commerce sites as they provide the viewer with a sense of realism when they are looking to purchase a specific product.
Benefits of 3D Elements for E-commerce Websites:
Realism: 3D images allow a user to get a fully rounded idea of what a product will look like in reality, making the purchase decision that much quicker.
Increased Conversion Rate: According to

Cappasity,

3D imaging market research, 82% of website visitors activate the 3D view on a product page, and 95% of respondents state that they prefer an interactive 3D representation to video playback.With these statistics in mind, 3D elements give way to a significant increase in key metrics such as conversion rates.
Shows Product Quality: 3D imagery allows a viewer to rotate a product, and view it from a variety of angles. This interaction and view allows the viewer to see close up detail of the value they will be getting from the product if they make a purchase - this is why 3D imagery is especially important for luxury items.
3D elements are set to be a big trend in 2021 as they are aesthetically pleasing, fun and engaging - and tend to keep visitors on a website for longer.
In Conclusion
Website design trends for 2021 are embracing a sense of "futurism" like never before, from attention grabbing videos and interactive animations to live chat bots, modern website design is all about keeping the attention of the user and creating the best possible customer experience.
Since 2005, Nexa has been building websites for brands and businesses located around the globe and have a vast portfolio of clients, including homegrown businesses and large global corporations. We also provide a range of Performance Optimisation services for business that need support maximising their return on investment for websites.
Contact Nexa for all your website design and development needs!